Reykjavik Energy Group's commitment to continuous improvement creates expertise and knowledge which can be of use to others. Some of the contributing factors are:
Its subsidiaries having leading position in geothermal utilisation.
Veitur Utilities being the largest company of its kind in the country.
Reykjavik Fibre Network having the most extensive fibre network in Iceland.
Reykjavik Energy Group considers knowledge dissemination, that can benefit others, as one of its key social responsibilities.
Annually, Reykjavik Energy Group hosts Science Day, where various development projects are presented. Unfortunately, Science Day had to be cancelled in 2020, due to COVID-19. Several employees of the Group regularly teach at universities and the School for Renewable Energy Science (RES) in Iceland, and deliver lectures at professional conferences, domestically and abroad.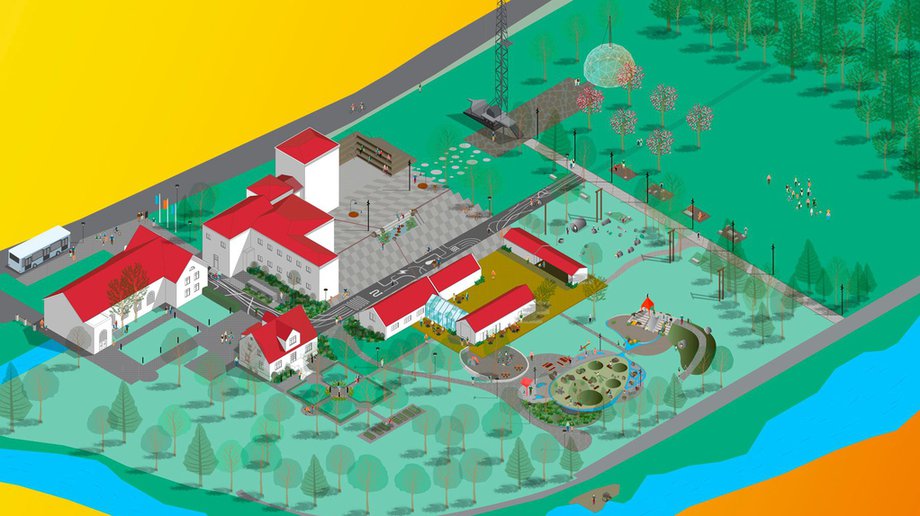 Geothermal Exhibition and Elliðaárdalur Electric Power Station
For years, the Geothermal Exhibition at the Hellisheidi Power Plant, has received visits from school children. In 2020, in response to the pandemic, online visitations were developed, and a large number of school classes came for a 'visit'. For most of the year, the Geothermal Exhibition was closed to guests.
In 2020, Reykjavik Energy Group announced the development of a history- and educational exhibition at Elliðaárdalur. The name of the project is The Elliðaárdalur Electric Power Station. The exhibition is meant to create a completely new experience for children and adults, where they can learn about history and science in a multi-sensory way. The cluster of houses at Rafstöðvarvegur Road, gain new roles, where groups of schoolchildren, families, hikers, and others can get acquainted with the science and technology that is behind the utilities' projects that revolutionised quality of life in Reykjavik. The plan is to open the exhibition on the old Elliðaárdalur Electric Power Station's centennial, or in the summer of 2021.
Green Business Accelerator
Late in 2020, Reykjavik Energy Group became a member of the Green Business Accelerator, along with the Ministry of Industries and Innovation, Reykjavik City, the municipality of Hvalfjarðasveit, Reykjavík Harbour (Faxaflóahafnir), the waste management companies Sorpa and Terra, as well as Grundartangi Development and Breið Development.
The objective of the Green Accelerator is to encourage the development of large and thriving companies, that base their ethos on the recirculating system, create jobs, and excel in environmental performance, here in Iceland. Sustainable innovation and developments for new solutions in environmental- and climate issues and value of exports based on ingenuity, is supported.
Icelandic Startup manages the Green Accelerator.
Carbfix knowledge
Knowledge of sequestration of geothermal gases in basalt, gained by collaboration of Reykjavik Energy Group's scientists with numerous other scientists, is undoubtedly the most widely recognised product of the Group's research and development activity. A broad variety of media outlets around the globe have covered Reykjavik Energy Group's and ON Power's project at the Hellisheidi Geothermal Power Plant, which is considered unique. Among the media, that covered Carbfix in 2020, are:
Nature
BBC Future
The Weather Channel
The Economist
Netflix
The Guardian